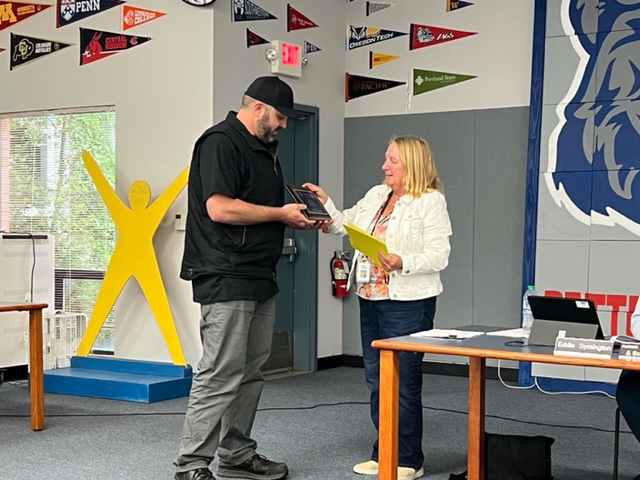 2022 Tom Moore Memorial Award Presented to Charlie Cyphert of Toledo
JUNE 20, 2022
The Lincoln County School District would like to recognize Charlie Cyphert for the 2022 Tom Moore Memorial Award. The Tom Moore Memorial Award is an annual award given to the individual who best exemplifies the volunteer spirit. It is named for former school board member Tom Moore, who gave his all to the district and community. In his honor, we give the award to a community member who also gives his/her heart and soul to the students of our district.
The administration from both Toledo schools nominated Mr. Cyphert for this award. The nomination reads:
Toledo would like to recognize Charlie Cyphert for being a community business owner that is always looking for ways to connect with students and our buildings. He has taken over a local family restaurant and has looked for every opportunity to partner with the school and to be involved to better our community. Everything from hosting events to building up our Boosters program to donating food and hiring students. He is invested in the school and community and his heart is huge. He is always looking for ways to improve Toledo for future generations including sitting on the ARTS Committee, leading and hosting Booster meetings, partnering with the school for meals after games and Boomer Nation Pop-Up Events, and even hiring our students to help them gain work experience. We would also like to thank his family for supporting him and for all you do for Boomer Nation.
It is with great pride that the Lincoln County School District award this year's Tom Moore Memorial Award to Mr. Charlie Cyphert. Thank you for all you have done and all you continue doing to support the mission of the School District.
Every Child, Every Day, Future Ready.
Dr. Karen Gray
LCSD Superintendent